Rochem Degreasol HD ECO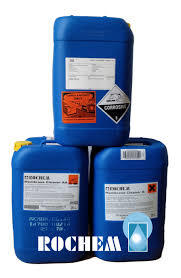 Rochem Degreasol HD ECO
Price And Quantity
Liter/Liters

100.00 - 1000.00 INR
Product Specifications
Colourless

Cleaning and Degreasing Agent
For Removes Carbon, Grease, Fuel Residues, Soot, Ash, Tar, Paint, Resin.

Drum and Bucket
Product Description
DESCRIPTION
ROCHEM DEGREASOL HD ECO is "the strongest there is" water based, non-caustic cleaning and degreasing agent. It is based on the latest and most powerful biodegradable surface-active and emulsifying agents. It contains fattyalcohol-etoxylates, metasilicates and complexing agents that quickly penetrate oil and grease deposits loosening them which subsequently get rinsed away when washed with water. Surfaces will rinse freely whether the water is hot or cold, salt or fresh. DEGREASOL HD ECO does not corrode metals. Product benefits, Application & Features: • Non-Flammable • Suitable in sea & fresh water • Leaves no film on cleaned surfaces • Biodegradable • Easy to apply. Effective and economical in use • Contains no ethoxylated nonylphenol (NF)
SPECIFICATIONS Colour - colourless Consistency - clear liquid Specific gravity - 1.05 pH - 12.85 Flashpoint - None.
USAGE Dirt, oil, grease and grime are rapidly loosened and rinsed away from aluminium, brass, steel, cast iron, chrome plate, porcelain, glass, painted surfaces, stone, cement and wood. DEGREASOL HD ECO is regularly used aboard ships for cleaning tanks, bilges, floor plates, tank tops and machinery spaces; in factories for cleaning machinery, manufactured parts, engines, motors, conveyors, floor etc.; at construction sites for cleaning road building machinery, scrapers, mixers, bulldozers, cranes, trucks, equipment etc.; in farms, garages and services stations for cleaning motors and machine parts, chassis and wheels, pits and floors, oil floors, oil drums, tractors, trucks, and other equipment. In short DEGREASOL HD ECO can be effectively used at every place where dirt, oil, grease and grime accumulate.
APPLICATION ROCHEM DEGREASOL HD ECO is applied undiluted by spraying, brushing, soaking, dipping, rubbing, mopping or by circulation method. • Spraying is used for cold cleaning interiors of oil storage tanks or where surfaces to be cleaned are irregular. After spraying, DEGREASOL HD ECO should be allowed to remain from 10 to 20 minutes before rinsing. • Brushing or mopping is used with DEGREASOL HD ECO for removing oil from decks, piers, and other large areas. • Dipping and soaking in unheated DEGREASOL HD ECO is the most economical way of cleaning small or large parts. • Rubbing with a soft cloth or sponge soaked with DEGREASOL HD ECO is an easy and quick method of cleaning large parts and painted surfaces. • Steam cleaning can be speeded up by spraying with DEGREASOL HD ECO for a few minutes prior to steam lancing.
HANDLING Harmful if swallowed. Use with adequate ventilation as concentrated vapour could be harmful. In case of contact with eyes, flush with water and get medical attention. Keep away from oxidizers, heat and flames.
Contact Us
SB23, Highland Corporate Centre, Old Agra Road, Kapurbawdi Junction, Thane(W), Thane, Maharashtra, 400607, India
Phone :+918037402724