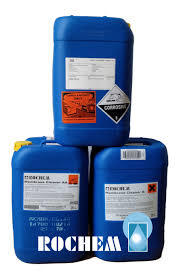 Rochem Descalex Powder
Price And Quantity
Product Specifications
For Rust Deposits in Heat Exchangers, air Conditioning Plants

Descalex Powder
Product Description
DESCRIPTION
ROCHEM DESCALEX POWDER has been designed for rapid descaling of waterside deposits. It is a nonvolatile, non-hygroscopic, odourless powder, which is compounded of dry acid, inhibitors, and wetting agents. DESCALEX POWDER has an unlimited shelf life and is completely soluble in water. It contains no chlorides, has low corrosion rates, and will not stress-crack stainless steel.
USAGE
ROCHEM DESCALEX POWDER dissolves water scale and rust deposits in heat exchangers, air conditioning plants, intercoolers and similar equipment. It is also effective in descaling oil wells and industrial water wells.
ADVANTAGES
1. ROCHEM DESCALEX POWDER reduces maintenance costs and lowers labor requirements due to faster, more efficient, regularly scheduled cleaning.
2. ROCHEM DESCALEX POWDER reduces the need of extensive dismantling while cleaning inaccessible areas such as small tubes, short bends, and irregular surfaces.
3. ROCHEM DESCALEX POWDER reduces the dangers and handling problems of liquid acids with no sacrifice to efficiency.
APPLICATION
ROCHEM DESCALEX POWDER is normally used as a 5% water solution (50 Kilos of DESCALEX POWDER per metric ton of water) which is equivalent to a 10% solution of ROCHEM Descaling Liquid. DESCALEX POWDER should be dissolved in warm water unless agitation is employed with cold water. The equipment being cleaned is filled with the 5% DESCALEX POWDER solution and agitated with air or steam, but preferably with a pump capable of providing good circulation. Circulation time required will vary from a few hours to 24 hours. For maximum results the solution temperature should be held between 60°C (140°F) and 77°C (170°F). After completing the cleaning, the equipment should be drained and then neutralized by introducing ROCHEM ALKLEEN in 1% water solution (10 Kilos of ALKLEEN per metric ton of water). Fill the equipment with the ALKLEEN solution and circulate it through the system for at least an hour. The pH value of the solution should stay above 8. If necessary, add more ALKLEEN until satisfactory pH is maintained. Drain the ALKLEEN solution then flush the system twice with fresh water. By its sequestering action the ALKLEEN solution will prevent redeposition of undissolved solids on the metal surfaces and permit thorough removal by blow-down.
Trade Information
Cash in Advance (CID), Cash Advance (CA)

1000 Per Day
Contact Us
SB23, Highland Corporate Centre, Old Agra Road, Kapurbawdi Junction, Thane(W), Thane, Maharashtra, 400607, India
Phone :+918037402724