Rochem Descaling Liquid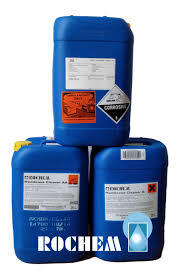 Rochem Descaling Liquid
Price And Quantity
Liter/Liters

100.00 - 1000.00 INR
Product Specifications
Reddish Brown

For Cleaning Nearly Every Type of Equipment Subject to Rust and Scale Buildup
Product Description
DESCRIPTION ROCHEM DESCALING LIQUID has been developed for rapid and thorough cleaning of heat transfer surfaces by chemically removing rust and water scale. It is a non-volatile liquid which is compounded from liquid acid, inhibitors, and wetting agents. ROCHEM DESCALING LIQUID is inhibited against attack on all metals except aluminium, zinc and magnesium. It has unlimited shelf-life. ROCHEM DESCALING is also very useful for removal of Lime coating from cargo holds.
GENERAL SPECIFICATIONS Appearance : Fuming Liquid Colour : Reddish Brown pH : Acidic Specific Gravity : 1.14 to 1.16 Oxydising properties: : None Solubility in water : Soluble in water
USAGE ROCHEM DESCALING LIQUID can be used effectively for cleaning nearly every type of equipment subject to rust and scale buildup. By lowering labour requirements and reducing equipment down time, ROCHEM DESCALING LIQUID has proven itself to be efficient and highly economical in cleaning of the following equipment and auxilaries ; fire-tube and water-tube boilers, condensers, superheaters, economisers, evaporators, steam and water lines, distillery equipment, air conditioning units, water jackets of internal combustion engines, cooling and piping systems etc.
APPLICATION The cleaning method and time required depend on the character and thickness of the rust and scale, size of equipment to be cleaned, availability of circulation equipment, concentration of ROCHEM DESCALING LIQUID, temperature of cleaning solution, and presence of oily compounds covering rust and scale. Our ROCHEM service engineers are available to recommend exact procedures to be followed in each specific case. However, the following is a general procedure that will prove effective in most cases:
1. The heat exchange equipment to be cleaned is filled with solution comprised of 1 to 3 litres of ROCHEM DESCALING LIQUID per 10 litres of water. This solution is circulated throughout the system for 8 to 16 hours. 2. The system is then flushed with fresh water which removes particulate matter and soluble salts. 3. Then a 1% water solution of ROCHEM ALKLEEN LIQUID is circulated throughout the system for at least an hour to neutralise the acid and to prevent redepositing undissolved soils on the metal surfaces by its sequestering action. pH of the solution should remain above 8. If it drops below, add more ALKLEEN LIQUID. 4. Drain the ALKLEEN LIQUID solution and flush twice with fresh water.