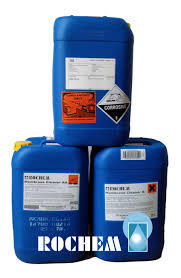 Rochem Metal Brite
Price And Quantity
Product Specifications
Liquid Cleaner Acids

Clear
For Removal of Heavy Rust or Scale Deposits

Drum and Bucket
Product Description
DESCRIPTION ROCHEM METAL BRITE is a liquid cleaner containing rust dissolving acids, emulsifiers and passivators formulated to remove rust and dirt stains from metal, wood, tile and painted surfaces. It is effective as a phosphatizer, metal conditioner or wash primer prior to painting steel surfaces. METAL BRITE is safe on brass, copper, aluminium, stainless steel and chrome. It will effectively clean, brighten, and protect metal surfaces from rust.
GENERAL SPECIFICATIONS Appearance : Liquid Colour : Slight Turbid Liquid pH : Acidic Specific Gravity : 1.15 to 1.20 Oxidizing properties : None Solubility : Soluble in water
APPLICATION ROCHEM METAL BRITE is normally used full strength for removal of oxides from metal surfaces but can also be diluted with fresh water for removing rust stains from painted surfaces. For best results, surfaces to be cleaned should be free of oil and grease. It is excellent as a general purpose cleaner-brightener but is not intended for the removal of heavy rust or scale deposits, nor for use on zinc or galvanized metals. METAL BRITE should always be used in a plastic bucket. The acid should always be added to water, never the reverse.
INSTRUCTIONS FOR USE
• Brightening of Aluminium Gangways, Brass Fire Extinguishers, Pots and Pans, Stainless Steel Sinks, etc: Remove oil and grease on surfaces to be cleaned: Apply METAL BRITE full strength with brush, rag, spray etc. Wash off with water after about 15 minutes. Dot not allow METAL BRITE to dry on metal surface: If oxide is not gone after 15 or 20 minutes of soaking time, apply another coat of METAL BRITE to the surface to prevent drying. Apply as many coats as required to remove oxide. Do not let METAL BRITE dry up on metal surfaces as it may leave a hard white deposit on the surface. Be sure to wash surface thoroughly with water.
• Pre-treatment of Steel Surfaces prior painting: Remove any oil and grease. Remove old paint and scale by chipping or wire brushing. Wet down entire surface with METAL BRITE and allow to dry. If rust exists on a pitted surface, more than one application may be required to remove rust. Surface should have a grayish white appearance when METAL BRITE is dry. The steel surface will now have a high resistance to rust and will present a good tooth for bonding of paint.
• Phosphatizing Steel Surfaces: For prevention of rust on steel surfaces that cannot be painted, METAL BRITE is applied full strength to an oil/grease-free steel surface and allowed to soak for 15 to 20 minutes. Wash surface thoroughly with fresh water and remove all METAL BRITE. The surface will now be rust resistant.
• Rust Stains on wood or Painted Surfaces: Heavy rust stains may require full strength METAL BRITE but light stains will disappear with diluted solution of METAL BRITE and water. Use approximately ½ parts of fresh water with one part of METAL BRITE. Apply solution with brush, rags, spray etc. and allow to soak for 20 to 30 minutes: Wash off with water. Repeat application to remove stubborn stains.
PRECAUTIONS ROCHEM METAL BRITE will not damage good dry paint, wood or caulking material; however, it is an acid solution and should not be used on zinc or galvanised metals. Avoid contact with skin or eyes as it causes skin irritation. USE WITH ADEQUATE VENTILATION.
Trade Information
Cash in Advance (CID), Cash Advance (CA)

1000 Per Day
Contact Us
SB23, Highland Corporate Centre, Old Agra Road, Kapurbawdi Junction, Thane(W), Thane, Maharashtra, 400607, India
Phone :+918037402724