Rocor NB Liquid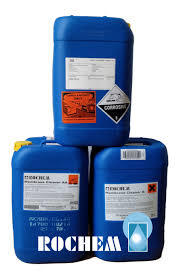 Rocor NB Liquid
Price And Quantity
Liter/Liters

100.00 - 1000.00 INR
Product Specifications
Rocor NB Anti-Scalant

For Closed Heating or Cooling Systems, Such as Diesel Engines, Compressors, Process Cooling Systems
1, 5 and 30 Liter

Drum and Bucket
Product Description
DESCRIPTION
ROCOR NB Liquid is the ideal corrosion inhibitor and anti-scalant for closed heating or cooling systems, such as diesel engines, compressors, process-cooling systems, chilled water systems etc. Rocor NB Liquid is a non-chromate, nonphosphate, free flowing liquid that is extremely effective for controlling corrosion while avoiding the pollution and toxicity problems associated with chromate based inhibitors.
ADVANTAGES 1. Controls attack on piping, valves, pumps and heat exchangers by forming a protective film on all exposed metal surfaces – iron, steel copper alloys, aluminium and brass. 2. Inherent buffering agents automatically adjusts pH at the preferred level. 3. Does not adversely affect pump glands, rubber hoses, water seals, valve packings etc. 4. Prevents deposition of copper on ferrous surfaces by "tying up" any copper which might be introduced. This eliminates the possibility of attack caused when copper deposits on steel to form galvanic cells or corrosion couples. 5. Compatible with alcohol and glycol based antifreezes. 6. Does not contain chromates ; does not colour the treated water, thereby eliminating the possibility of staining. 7. Liquid form simplifies usage and eliminates waste.
APPLICATION Feed Rocor NB Liquid at any convenient point in the system with a chemical dosing pump or slug feed by using an appropriate by-pass feeder. Rochem can supply suitable dosing equipment.
DOSAGE Concentration level in the system must not be allowed to drop below 1500 ppm as nitrite (NO2). For economical reasons try to maintain nitrite level between 1500 ppm to 2000 ppm although higher nitrite levels will not cause operating difficulties. Nitrite level is obtained by using a simple colurimetric test for nitrite.